Yesterday I've been back from a wonderful week in Aeolian Islands and I wanted to write an article to live together a lot of beautiful moments and especially to make you discover something more about these Sicilian islands.
Instead once I was back, overwhelmed by thousands ideas i had in the last month, I got inspired to write this article. Today I'll tell you how a house reflects our passions and isn't just a house, but "the HOUSE!"
While we were on holiday the last week, I had my studio Tiffany color painted and my bathroom white.
My studio now changed color but I want to change different things, so now I'm thinking about different solutions. Taking off, adding, moving.
I have a rectangular studio inside the bedroom, but well divided, it's narrow and long, small, but with a beautiful view and a window at an angle.
It has the right dimension to be my escape angle, even when I want to concentrate I close two doors and the silence is king. And most of all it regenerates me.
Every house should have an angle special for us. A part of a house that speaks about us and about our passions, and from here starts the idea to share these ideas I believe in from always, here with you.
I made and see beautiful houses and I just open some magazine or pinterest, without going to far, to realize how many trendy and technological houses you can inspire to.
But us that we live in there, who are we? What are our real passions?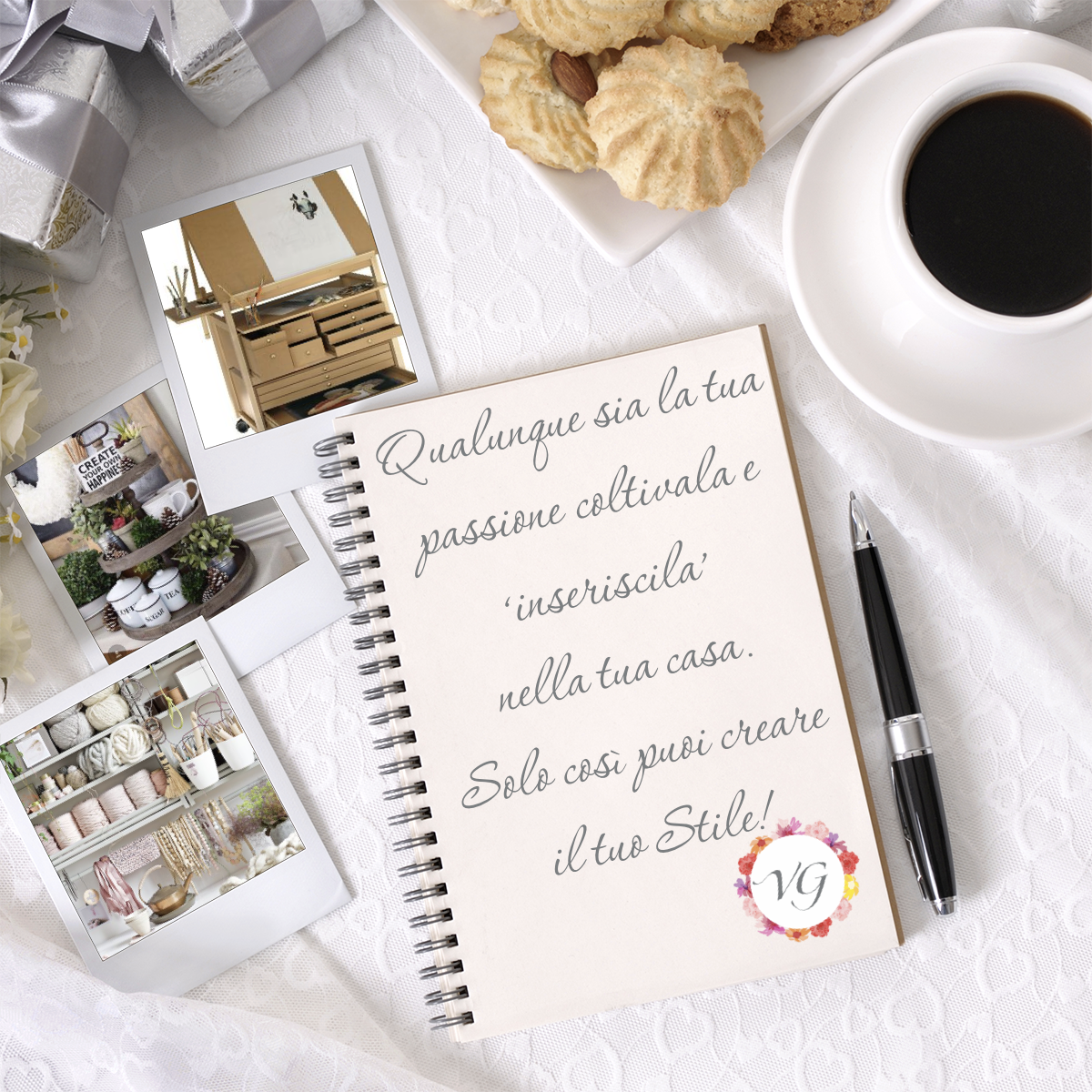 I know people that loves reading, they wish they had a chaise long at home but then they opted for 2 sofas with 8 seats, because this way friends would have been more comfortable.
I know other people that since they're married they set aside the passion for paint because the tripod, the TV and the colors… where do he put them? There's no appropriate room and in the living room it creates too much mess.
Mess?
Let's talk about houses that talk about us instead!
When I talk about Style, of your style, I'm talking about this…
You don't need a big house and have rooms for everything, you just need to dedicate an angle, a space, a wall, or even just a niche for what we love.
How can we live in a house that doesn't reflect us, where we miss something, that something are the details that talk about us. It's what we love the most.
Sometimes I think when we were little it was good to have our little room.
It was that space that was only ours, or shared with our brothers, where there were the things we loved the most, our plays, the desk with our colors, our pictures, the wallpapers.
Then we grew up.
We creates a couple and then a family, and the spaces are more and more aseptic.
They are shared places. So everyone need to be good in the kitchen, in the living room, in the bathroom… and also in the bedroom, but often it has to be neutral.
To reconcile Her and Him.
And "us" where are we?
Beautiful homes, perfect to receive, but often there's not enough time to have guests, and in the end no one told us that HOME is our refuge, our nest, the place where we regenerate and cultivate ourselves.
So I want to propose you a series of images I took from Pinterest to make you think about how sometimes it doesn't take much to create something that talks about you and make you reconnect with the place you live. And I want to help you think about it.
Whether you love books, music, painting (as you can see today there are organized tripods where you can hold anything and the living room will be even more beautiful), yoga, plants, fashion, art, knitting or simply the coffee ritual…
For instance in autumn I dress my coffee table with fresh flowers and a cakestand with different plans where I put all my favorite teas and brews, I have a collection but I love keeping them there.
I love looking at them, some of them has beautiful boxes.
It's true they could be in the kitchen, but when I write on the sofa I look up and I want a brew so I immediately stand up, heat the water and in 30 seconds I already have my cuddle moment. Generally at least 2 cups a day.
I call them cuddles, and it makes me feel even more at home.
When someone will come visit me, maybe he will feel the same pleasure, maybe not, but it's my home and it's okay.
If we like it and we create a relaxing atmosphere, also the other people will be good, I'll guarantee you that.
Do it! Organize a space, an angle, a hutch, a desk, or hangers on the ceiling with plants that fall down… a murals… anything, so long as they talk about you.
I really liked the Yoga angle on the Board, it's so easy to do it, you can paint it if you're good at it or look for a wall sticker online, and armed of mat create a specific angle.
For who loves succulents but doesn't know where to put them it's the right moment to buy these boule that stick at the ceiling. I saw them at least in 2 shops at Rome recently, and the effect is assured.
Otherwise, for who doesn't have space it's nice an angle with aromatic plants, there are various solutions to not delay the wish of having under your eyes what you love and make it you feel at home to the next house.
Always remember that WE are the protagonists of our home.
Now i'll leave you giving space to your fantasy.
Let's get to work!
See you next time… with Style! Definitely yours!
Viviana Grunert
Commenti
commenti