Summer is my favorite season. Because I love heat, 30 degrees is my temperature, I love the lightness of the dresses, white, fresh perfumes, Jasmine at night, walking barefoot, drying my hair in the air, eggplants everywhere, drinks in terrace and dinner under the stars.
When June comes and Luna's school ends I feel to start to breathe again, as if I was in apnea. The rhythms slow down and finally I immediately feel my mind regenerate, even if I remain in the city, it's still holiday.
I think, indeed, that despite loving to travel and to see new places, home is my safe port where I completely regenerate, better than a SPA.
If you create a place where you're good at, and you don't need to run at the first occasion to relax, then you'll have the keys for your wellness, whatever it is and in every moment.
White in summer is my favorite color, to wear but not only… anywhere… at table, in the exterior cushions, in my bag in crochet or in straw, as much as wide brimmed hats, with a white ribbon for when I'm at the sea.
White can decorate or become a base for your summer color palette.
In summer, if you have a little terrace you can plant jasmine in vases and at night and in the morning you can smell its heady perfume… among dinner and coffee in early morning on your terrace it will regenerate you and give that energy for the day.
Another summer flower I love to plant is the hydrangea, always white. Unfortunately the only con of the summer is that fresh flowers last a maximum of 2 or 3 days… so ready to herbs and green plants.
White is lightness, during summer absolutely used sheets and towels in linen and macramé made by my grandma when I was kid. I remember that in summer she spent her time to embroider and all became white, and at home we breathe Marseilles perfume and cleaned.
Textiles are natural more than ever, and this is the season I call imperfect, because made of wrinkled linen and of mise en place that looked like if they were spontaneous, but that obviously aren't.
Also the table wears runner and linen mats, summer has the power of making perfect an imperfect table, with mismatched plates and glasses with herbs at the center. This centerpiece will be good for the aperitif if you'll serve mojito with fresh mint, for tomato bruschetta served with basil leaves, for a barbecue. At the center it must not miss: basil, rosemary and mint. Besides, all the 3 are natural anti mosquito, so we'll put them in a wicker basket. You decide the color, whether white or natural.
If you want to create a white base you can match all your colorful mise en place of plates and glasses, but remember, for who thinks that white in summer is too boring, that food and ingredients in summer has vivid colors and they will contribute to make your plats colorful, fresh and attractive.
Take off silver from Easter, now it's time of particular utensils, satin steel or with a bone handle, always white. The trays can be in transparent plexiglass, or made in wood, or color plastic as the ones of Baci Milano, I have a grey one that I match in different occasions.
Summer is that season where the invites are last minute and you can indulge.
Barbecue is a must, and the white wine makes a deal. If you have an outside space, at night you can put some lanterns or some tea light on the table and it'll be magic, with a few elements you can create an energetic atmosphere for you and your friends.
Summer is that moment in which a neglected angle of your garden can transform in your solitary angle to read simply with old pallets painted in white and transformed in a delicious little sofa, with some cushions threw on it and the effect is assured.
It's the recycled season. When we go to the sea with Luna, also in winter, we walk for hours looking for special shells that we don't own, and it's a way to walk on the water's edge and create something we picked up, for example setting them at the table as a placeholder, or filling a vase to put it on your coffee table and remember of that beautiful moment spent together on holiday.
You don't always need to buy everything, and it's not true you need dexterity for some things, but it's true you need patience to do things that you can buy with little money, but they wouldn't have the same value.
Anyway… always in a beach house, as textiles I recommend linen curtains that touch the floor, for this look a little imperfect and relaxed and the essential in your bedroom, the natural textiles will decorate your bedroom and a treated mosquito on the bed will do the rest.
Less is more, do you remember?
Empty your mind on holiday, and regenerate the cells for when we'll be back home.
I would keep the walls lean, some mirror with a stone frame, some family portraits at the beach, and a s a lighting I'd avoid ceiling lamps, if only in rare cases, and I'd out everything to the wall or on the floor. This year at the Salone del mobile of Milan at the enlightenment pavilion they presented some particular lights that I would have bought for a beach house only to use them. I immediately visualized them here, in a white house, a little minimal, and at the walls this sculptural lamps with stylized men. I'll put them down here, and I'll put also some stone painting that I'd see well, obviously in another point of the house.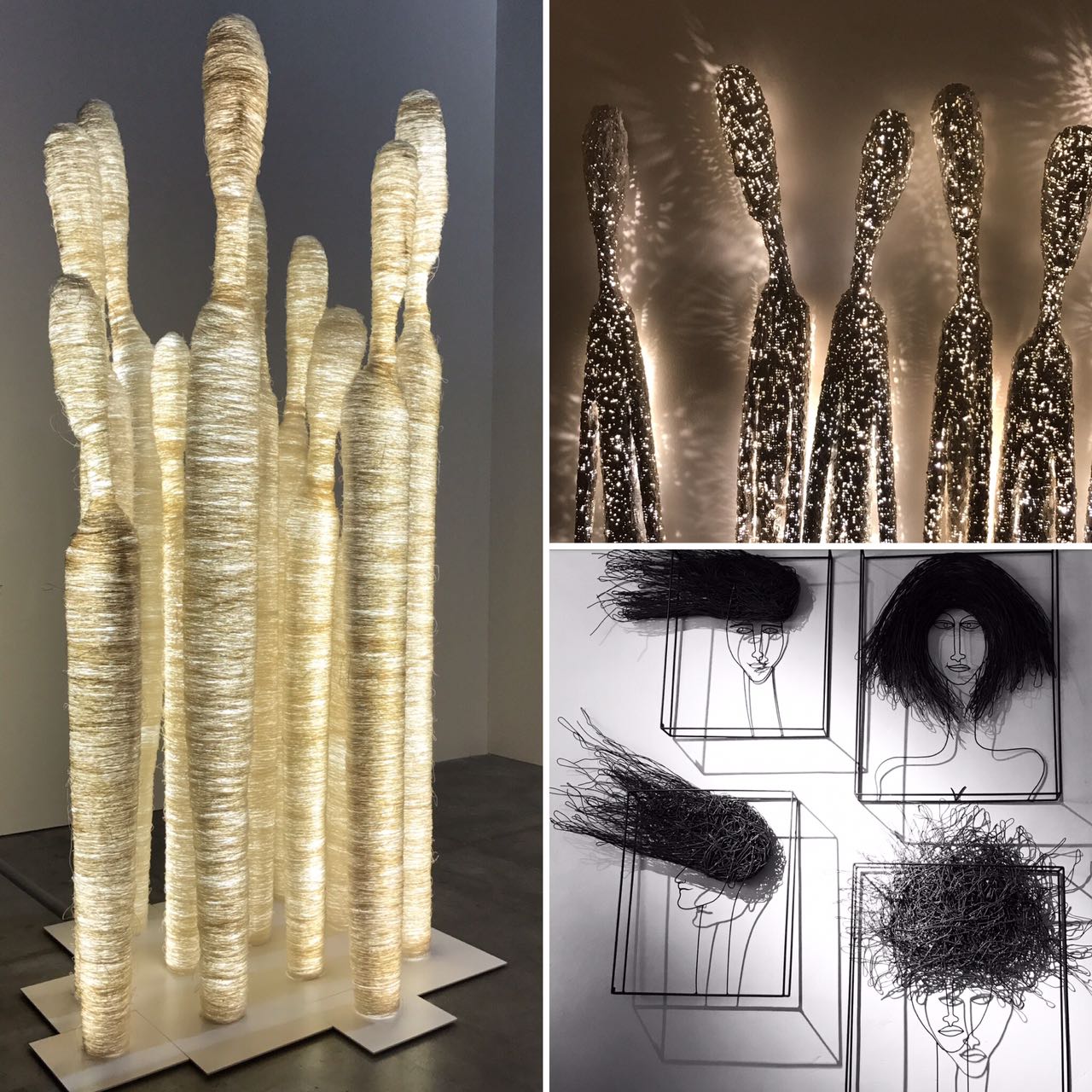 The lighting has to be warm, as if it was the light of a candle burning, and the trick is to create different highlights in case you need a lot of enlightenment all together, otherwise is better to switch on the light in zone. Definitely more relaxing.
In case you'd like carpets, to me a lot, I recommend mats that you can wash and dry quickly. I had them in my beach house, also in natural textiles, in this case made in cotton, ecru colored on a white pavement, we washed them in the morning with a pump in the garden and soap, and in the afternoon they were already dried.
Practical is essential.
When I buy something for the house the first thing I think is: how do I wash it? I renounced to the beautiful but non-removable cushions, impossible to clean, and to the blinds, which are not easy to take apart and wash it. To me everything has to be easily washed in my washing machine with my cleaners and in few hours all remounted. To give you an idea of how much this is important for the maintenance of my house, some years ago I changed the washer to buy a bigger one where it was possible to wash duvets without washing them at the laundry, because I couldn't bother the smell of it.
The perfumes of which we surround us are a real cure-all for our humor, and it's important to have our smell when we rest, that we recognize, that we love, that relax us. Sleep will be better.
Viviana Grunert
Commenti
commenti